Purim 2021/5781 at the LJS
A Purim Mask-erade or Who was Mrs Feather?
On Erev Purim at 8.00pm on Thursday 25 February 2021
This year we celebrate Purim with a difference as an interactive experience, where the audience decides the ending.
So tune in to watch this witty piece. The story is given an interesting twist with the introduction of a special new character… and all written in iambic pentameter.

For details of how to join on Zoom, please see Shalom LJS or email ljs@ljs.org

Rimon and Purim
Rimon is now getting ready for the L'Dor va'Dor Purim family service, for which the students are in the process of creating some new liturgy. Taking inspiration from our siddur, our classroom studies and each other, each class is composing and presenting an original piece to add that special extra touch to the intergenerational service.
And of course, there is some fancy dress! Every year, the children are asked to wear fancy dress and this year is no different, except that we are focussing on hats. So watch out for a L'Dor va'Dor service full of home-made, home decorated, bought, borrowed or repurposed hats.
L'Dor va'Dor service 27 February 2021. Watch via YouTube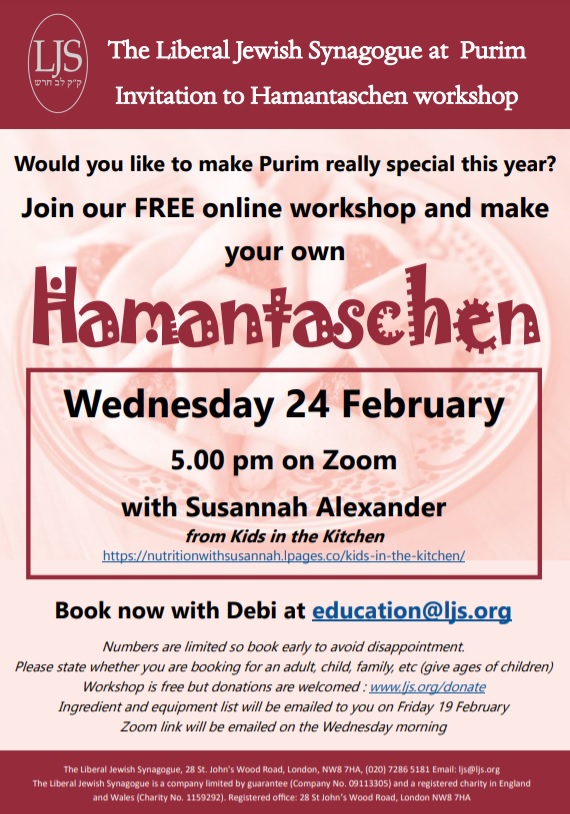 Click poster to enlarge.
Reflections on Purim by Rabbi Alexandra Wright

Click article to enlarge. It was first published in the Jan/Feb 2021 newsletter

Thu, 4 March 2021 20 Adar 5781